Home Assistant is a home automation platform. that allows you to control and monitor your smart devices at home¹. It has a web-based interface that lets you create dashboards, automations, integrations and more¹. You can also use the official Home Assistant apps to control your devices and receive notifications on your phone or watch¹.
There are different ways to install Home Assistant depending on your device and platform. The recommended method is to use Home Assistant Operating System, which is a minimal operating system optimized to power Home Assistant. It comes with Supervisor to manage Home Assistant Core and Add-ons². Another option is to use Home Assistant Container, which is a standalone container-based installation of Home Assistant Core (e.g. Docker)².
Home Assistant can be installed on multiple platforms, but some of the most popular ones are single-board computers like Raspberry Pi, ODROID, ASUS Tinkerboard or Intel NUC¹⁴. These devices are small, cheap and powerful enough to run Home Assistant and its add-ons³.
If you have an old computer or a laptop that you don't use anymore, you can also use it as a server for Home Assistant. You can run Home Assistant on Windows, MacOS or Linux using Docker or Python virtual environment¹⁵. However, this might require more technical skills and manual configuration than using a single-board computer with Home Assistant Operating System.
So if you want start up on Windows based PC this is how you can do it.
1. Download Home Assistant (HA) Virtual box (vdi) image from https://www.home-assistant.io/installation/windows/
Unzip the .vdi file from downloaded archive.
2. Download VirtualBox for Windows from https://www.virtualbox.org/wiki/Downloads
Install VirtualBox with default settings.
3. Create new Virtual Machine
Change to Expert Mode
Give name to virtual machine. Select folder to where did you extract vdi image.  Seletc type Linux and version Other Linux (64-bit)
Change memory to 2048MB and CPU to 2, enable EFI
Under Hard Disk check Use and Existing Virtual Hard Drive. Select downloaded vdi image.
Click Finish..
4. Open Settings , go to Audio, Enable Audio and select Intel HD Audio, Enable Audio Output
For network  select Bridged Adapter and network adapter in your PC
5. Select created virtual machine and click Start button (green arrow)
Home Assistant boots up
From boot screen you can see IP address of this virtual machine. Take the IP address and add default installation port :8123, open it in web browser.
In this exaple it is http://192.168.1.86:8123/.
Initial credentials will be asked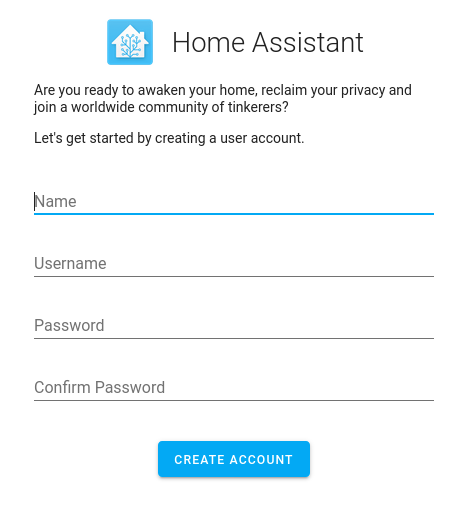 Next time standar login screen appears:
---
If you want to learn more about Home Assistant, you can visit their website at ¹ or check out their installation guide at ².
(1) Home Assistant.
(2) Installation – Home Assistant.
(3) Windows – Home Assistant.